---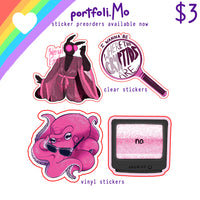 With social media and their recent viral popularity, lots of cryptids and creatures have become the epitome of the term 'Material Girl'.  They treat themselves and participate in retail therapy.  But who's to judge, so do we.

3 in vinyl stickers.
Note: This is a preorder item expected to ship by 12/20/2022.